banner by
disquietus
~the girl~ Erin. formerly
aerbear_2007. 27, although my mother would argue that I act much more like a 5-year-old. fangirl. pessimistic idealist. child of divorced parents. 3 younger siblings but I act more like an only child. spoiled. bibliophile. dreamer. looking for love in all the wrong places. geek. scorpio. pharmacy technician. perpetual student. divorced. my kitten owns my soul, even if he is the most evil thing I've ever had the pleasure of knowing personally. independent with co-dependent tendencies. cannot survive without music or caffeine. resident of the land of entrapment (New Mexico) and feeling it's effects more and more everyday. laughs to keep from crying. sarcastic. agnostic. addicted to the internet. aspiring author.



(

most recent pic of me under hereCollapse

)



~the fandoms~ The Big Bang Theory. Doctor Who. Harry Potter. How I Met Your Mother. Skins. Torchwood. Misfits. Supernatural. The Walking Dead.

~the people she'd stalk if it wouldn't land her ass in jail~ Alexander Skarsgard. Amanda Seyfried. Andrew Lee Potts. Anna Kendrick. Brandon Boyd. Billie Piper. Chris Colfer. Chris Pine. Craig Ferguson. David Tennant. Emma Stone. Gerard Butler. Ian Somerhalder. Jackson Rathbone. James Franco. Jared Leto. Jeffery Dean Morgan. Jim Parsons. Johnny Depp. Joseph Gordan Levitt. Kellan Lutz. Kristen Bell. Kristen Stewart. Kristin Bauer. Neil Patrick Harris. Nikki Reed. Nina Dobrev. Patrick Stump. Paul Wesley. Robert Downey Jr. Robert Pattinson. Ryan Reynolds. Zachary Quinto. Zooey Deschanel. Andrew Garfield. Jensen Ackles.

~the tunes~ The Academy Is. AC/DC. Aerosmith. The Audition. Bare Naked Ladies. Billy Idol. Blind Melon. Blink 182. Blue October. Breaking Benjamin. Cobra Starship. Dashboard Confessional. The Decemberists. The Doors. The Early November. Eisley. Eminem. Fall Out Boy. Florence + the Machine. Flyleaf. Good Charlotte. Green Day. Hinder. Imogen Heap. Incubus. Iron and Wine. Jet. Katy Perry. The Killers. Kings of Leon. Lady Gaga. LeAnn Rimes. The Lonely Island. Madonna. The Maine. Mayday Parade. Muse. New Found Glory. Nine Inch Nails. Nirvana. No Doubt. Ok Go. Paramore. P!nk. Plain White T's.Rammstein. Reba McEntire. Regina Spektor. The Silversun Pickups. The Spill Canvas. Taylor Swift. Three Days Grace. Tori Amos. The Used. The Verve Pipe. Weezer. Yellowcard.

~the books~ Twilight Saga. Harry Potter. The Time Traveler's Wife. The Southern Vampire Mysteries. The da Vinci Code. Angels and Demons. Wicked. The Hunger Games Trilogy. Beautiful Creatures. The Girl With Dragon Tattoo. The Mortal Instruments.

~things she loves~ red, black, green, white, purple, silver. strawberries, cheeseburgers, pepperoni pizza, enchiladas. autumn, winter. not having to drive in the snow. singing. flip flops. beluga whales. penguins. swimming. thunderstorms. halloween. christmas. dragons. fairies. vampires.
disquietus.
girlnextdoor27.
justforthe_lulz.
ohthehumor.
itsxnotxeasy.
helenadazzle.
ro89.
iamthepirate007.
musicfreak1987.
hardyz_angel.
jasminemarie84 RIP bb, I miss you so so so so much.

~things that make her rage, gag, or are otherwise unpleasant~ close-mindedness. liars. cheaters. people who always assume the worst. mindless movies. feet. cleaning. a dirty kitchen. being fat. confined spaces. seafood. mushrooms. getting lost. teeth. writer's block. being alone.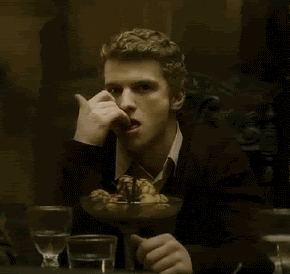 Current Mood:

cold